4H5 7743 KRONE ZZW 18 zLTC3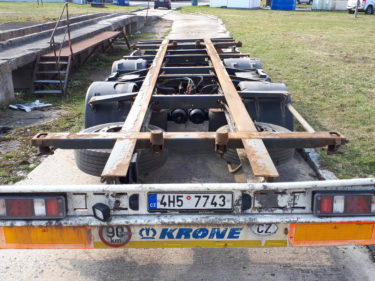 Manufacturer
KRONE
Model
ZZW 18 zLTC3
Price out of the auction (excluding VAT)
82 800 CZK
3 000EUR

Listed prices in EUR are subject to exchange rate change.
Location
Jičín
VIN
WKEZZ000000556052
Date of first vehicle registration
24. 11. 2012
Tachometer (km)
cca 900 000
Gross vehicle weight rating (kg)
18 000
Payload (kg)
11 670
Number of axles
2
Type
Semi-trailers
MOT (vehicle inspection) valid to
8. 3. 2020
Equipment

Na vleku bude rezervní kolo pouze vleku.

Description (Note - Condition)

Stav – vše funkční, ale promáčklá oj, poškozené zábrany, držáky blatníků, nutná kontrola brzd
Takže cenu určitě nižší než u toho prvního.